View cart
"Flaxseed Chutney" has been added to your cart.
Chocolate Chip Muffin
₹60
Dive into the world of SATT baked goods which encompass a plethora of healthy and mouth-watering recipes. Get enamoured with the chocolatey goodness of our fluffy choco chip muffins, made using natural wholewheat and A2 type milk from our Gir cows.
Reviews
Only logged in customers who have purchased this product may leave a review.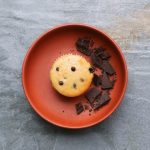 Chocolate Chip Muffin
₹

60