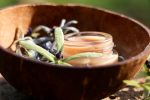 The weather was getting really cold. I bundled up with clothes and stepped outside. To my sorrow, 3 year old Bhavi was tottering around with a sad face due to her chapped lips. This little bundle of sunshine is the cutest ever, and her pain saddened me. Her tiny lips were cracked and sore. I racked my brains and it hit me that we could try the lip balm we make at MCVK! I beckoned little Bhavi over and smeared it on her lips.
Overnight, we were awestruck upon seeing such significant change! Her lips had quickly gone back to their original petal pink, plump and hydrated state and all of us were really glad.
On a side note, how I wish I'd discovered this lip balm sooner. Then I wouldn't have gone around, looking like a literal monkey as a sixth grader.